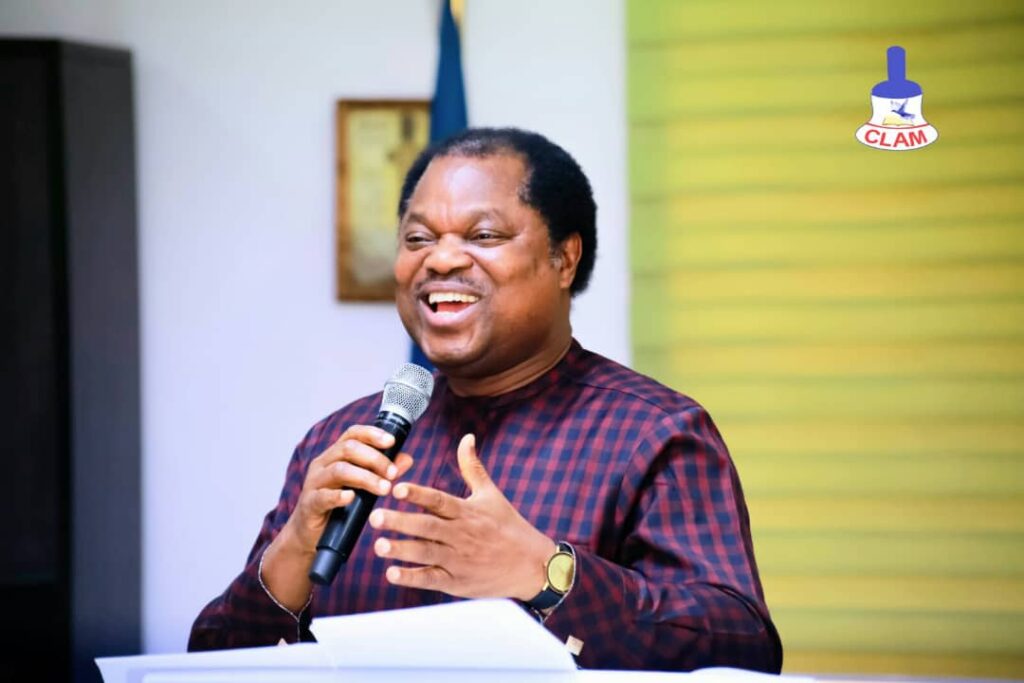 Wole Oladiyun is a Nigerian preacher, pastor, apostle, prophet, Christian author (over 50 books), civil engineer, entrepreneur, founder/senior pastor of the Christ Livingspring Apostolic Ministry (CLAM), Omole, Lagos, Nigeria, West Africa; Convener, Ministers Apostolic Fire Convocation (MAFCO); Chairman, Soteria Maternity & Hospital, Lagos; Chairman, JNISSI Schools, Ogba, Lagos; Chairman, Pastor Wole Oladiyun Foundation (PAWOF).
Born
Olawole Joseph Oladiyun on April 2, 1959
Parents
Elder Samuel Oladiyun and Deaconess Dorcas Ejiola Oladiyun (Both deceased).
Residence
Lagos, Nigeria.
Nationality
Nigerian (Ondo State, South West Nigeria).
Occupation
Senior Pastor, Christ Livingspring Apostolic Ministry (CLAM), Omole, Lagos, Nigeria.
Spouse
Pastor Mrs. Bukola Oladiyun (Director, Family Life, CLAM;
founder, Voice of  joy & Gladness International Ministry; Proprietess, JNISSI Primary School, Ogba, Lagos).
Children
Pastor Mrs. Ayomide Oke, Barrister Oluwadamipe Oladiyun, Imisioluwa Oladiyun, and Inioluwa Oladiyun.
Education
Gboluji Anglican Grammar School, Ile-Oluji, Ondo State;
University of Ife (now Obafemi Awolowo University), Ile-Ife, Osun State; The Business School, The Netherlands.
Qualifications
B.Sc. (Hons), Building/Civil Engineering (1984); MBA.
Career in Civil Engineering
He distinguished himself as a brilliant building/civil engineer, rising to the top of his career as the Chief Engineer of a reputable engineering firm in Lagos. He successfully supervised several landmark buildings which today dot the landscape of Victoria Island and Lekki in Nigeria's commercial capital city of Lagos.
Entrepreneurial Initiatives
Before he heeded the call of God unto full time pastoral work, he was a successful entrepreneur. He founded a chain of engineering and chemical businesses under the group name – JNISSI – that thrived and flourished.
He is currently the Chairman of Soteria Maternity and Hospital, Lagos; JNISSI Primary School, Ogba, Lagos, and Jesus Arena Luxury Suites, Ile- Oluji, Ondo State.
Ministerial and Pastoral Career
Pastor Wole Oladiyun was raised in the Christ Apostolic Church (C.A.C) founded by the prayer legend, Apostle Joseph Ayo Babalola. Pastor Oladiyun was covenanted to God by his father at age seven on the altar of CAC Oke-Isegun, Ile-Oluji, Ondo State, Nigeria, and he was imparted with the raw power of the Holy Spirit from childhood. He served dutifully at Faith Family Bible Church, Lagos before he founded the Christ Livingspring Apostolic Ministry (CLAM)m on April 2, 1998.
He has an uncommon passion for evangelism and winning souls through crusades. He set up CLAMGO – Christ Livingspring Apostolic Ministry Global Outreach – as an organ for rural and village evangelism. Till date, CLAMGO has organised crusades in all geographical regions of Nigeria, with a lot of work done in dreaded rural areas to win souls for Christ. Pastor Oladiyun is a much sought-after firebrand preacher whose exploits in the apostolic prayer and deliverance spectrum of the ministry have been critically acclaimed all over the world, especially in the United Kingdom, USA, and Canada.
Philanthropic Works
Pastor Wole Oladiyun is a "dangerous giver" who believes in investing in human destinies. He is the Chairman of PAWOF – Pastor Wole Oladiyun Foundation – which supports indigent students with scholarships; provides funding for the treatment of those who are ill; and creates jobs for the unemployed. www.pawof.org.
Literary Works
He is an author with over 50 published books which focus on deliverance and breakthrough prayers
Invention and Innovation:
In 2018, Pastor Wole Oladiyun made history by pioneering the first prayer search engine in the world www.prayerparliament.com. The site has been acclaimed globally as the first of its kind, offering prayer solutions to a myriad of life's challenges and issues such as barrenness, stagnation, disappointment, lack of achievement, etc.
Also, he has composed several apostolic prayer, deliverance and worship songs which are being used in many churches all over the world.